Tradition, Tradition! Tradition!
December 01, 2016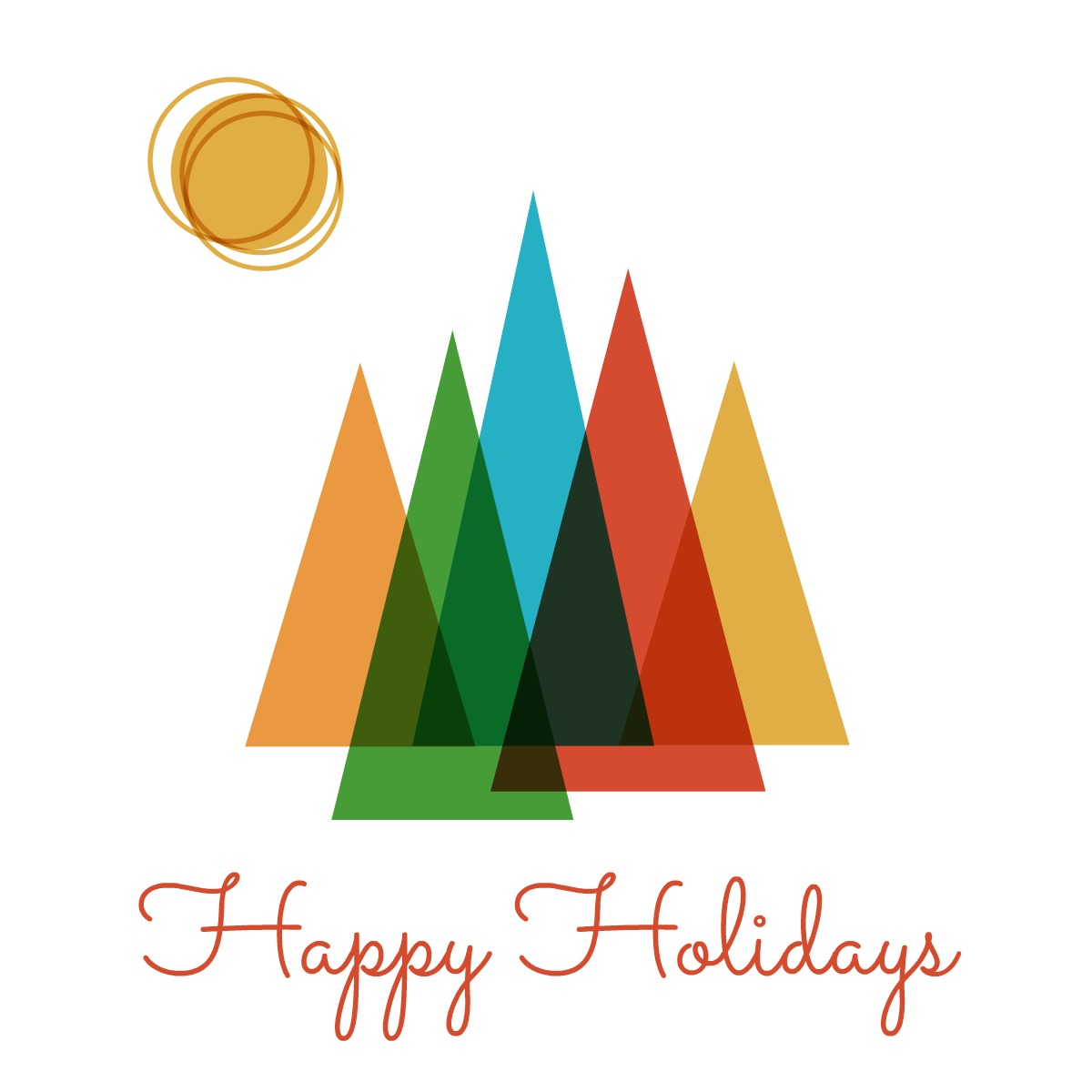 The holidays are rife with traditions, many of them decades— even centuries— old. Traditions are a link to the past. Tradition means "handed down from one generation to the next." Traditions remind us that we are not isolated individuals, we do not live in a vacuum; we are part of history, part of culture, part of a family. The holidays themselves are a way of remembering the past, commemorating important events. We set aside a time to remember, to celebrate.
Our holidays, and our holiday traditions, are dear to us. But where do our traditions come from?

Winter Solstice:
The winter solstice is the shortest day of the year, and usually occurs around December 22. As the end of the darkness of winter, and a sign of spring to come, the winter solstice has been celebrated throughout history. In Scandinavia and northern Europe, the solstice is referred to as "Yule," which is where the "Yule log" originated.
Christmas:
Christmas, the "mass of Christ," remembering the birth of Jesus of Nazareth, has been celebrated on December 25 since the year 336, during the time of the Roman Emperor Constantine. A few years later, Pope Julius 1 officially declared that the birth of Jesus would be celebrated on December 25.
Epiphany, celebrated on January 6, "Twelfth Night," is when celebrants remember the Magi, the wise men, coming to worship the Christ child.
Hanukkah, or Chanukah:
Hanukkah, the Jewish festival of Lights, begins on the 25th day of the Hebrew month Kislev (close to December). Hanukkah is observed for eight nights and days, celebrating the re-dedication of the Holy Temple in Jerusalem during the time of Maccabean Revolt in 165 BCE. Preparing the temple for its rededication, they found only a small vial of oil to light the lamp —only enough oil for one day. Miraculously, the temple lights burned for eight days until new oil was brought. In remembrance of this miracle, one candle of the Menorah —an eight-branched candelabra — is lit each of the eight days of Hanukkah.
Hanukkah, which means "dedication," begins at sundown on Sat, 24 December 2016.
Kwanzaa:
Kwanzaa, created in 1966 by Dr. Maulana Karenga, a professor at Cal State, is an African-American holiday celebrating family, community, and culture. Celebrated from December 26 to January 1, Kwanzaa involves seven principles called the "Nguzo Saba." The seven principles are Umoja (Unity), Kujichagulia (Self-determination), Ujima (Collective Work and Responsibility), Ujamaa (Cooperative Economics), Nia (Purpose), Kuumba (Creativity), and Imani (Faith). Each principle is represented by a candle in a Kinara (candleholder), with three green candles on the left, three red candles on the right, and a black candle in the center. Black symbolizes the faces of the African people, Red symbolizes the blood they have shed, and Green represents hope and the color of the motherland. The name itself – Kwanzaa – is a Swahili word meaning "fruits of the harvest."
Boxing Day:
Boxing Day is celebrated on December 26, and takes its name from a British tradition of giving a "Christmas Box," a gift of money or food, to the tradespeople and deliverymen who gave service during the year.
In the UK, and in Canada, Australia, and New Zealand, Boxing Day is a federal statutory holiday.
Here are some interesting "holiday tradition" facts you might not know:
Rudolph, the Red-Nosed reindeer:
In 1939, Robert May, a copywriter for retail giant Montgomery Ward, was tasked to write a short Christmas-themed book that the store could give to visiting children. Borrowing from Hans Christian Anderson's "The Ugly Duckling" and Clement Clarke Moore's "A Visit from St. Nicholas," May penned the story, loved for generations, of the "most famous reindeer of all." "The retailer's holiday advertisements touted "Rudolph the Red-Nosed Reindeer" as "the rollicking new Christmas verse that's sweeping the country!" Children snapped up nearly 2.4 million copies of the paper-bound book in 1939." In 1949, Johnny Marks, May's brother-in-law, set Rudolph's story to music, which was recorded by Gene Autry, and is one of the best-selling tunes of all time.
Christmas Trees:
Christmas trees date back to 16th-century Germany, when fir trees were decorated (both indoors and out) with candles, colored paper, flowers, and apples. It is believed that Protestant reformer Martin Luther, inspired by the beauty of stars shining through the branches of a fir tree, was the first to decorate trees with lighted candles.
Christmas Cards:
Sir Henry Cole, the first director of London's Victoria and Albert Museum, is credited with creating the first real Christmas card. In 1843, finding himself too busy to write individual Christmas greetings for each of his friends, Cole hired artist John Calcott Horsley to illustrate a card with a family enjoying their Christmas celebration and a caption "A Merry Christmas and a Happy New Year to You."
Traditions, Then and Now:
The Pew Research Center conducted a survey in 2013 on "Celebrating Christmas and the Holiday, Then and Now," to explore how holiday traditions change, and how they stay the same. They asked adult participants how they remember celebrating the holidays as children, compared to how they celebrate today. Many holiday traditions, such as celebrating with family or friends, gift giving, and putting up a Christmas tree, were celebrated much the same today as in the past. Some traditions, however, such as caroling, seemed to be dying off.
Here are the survey results: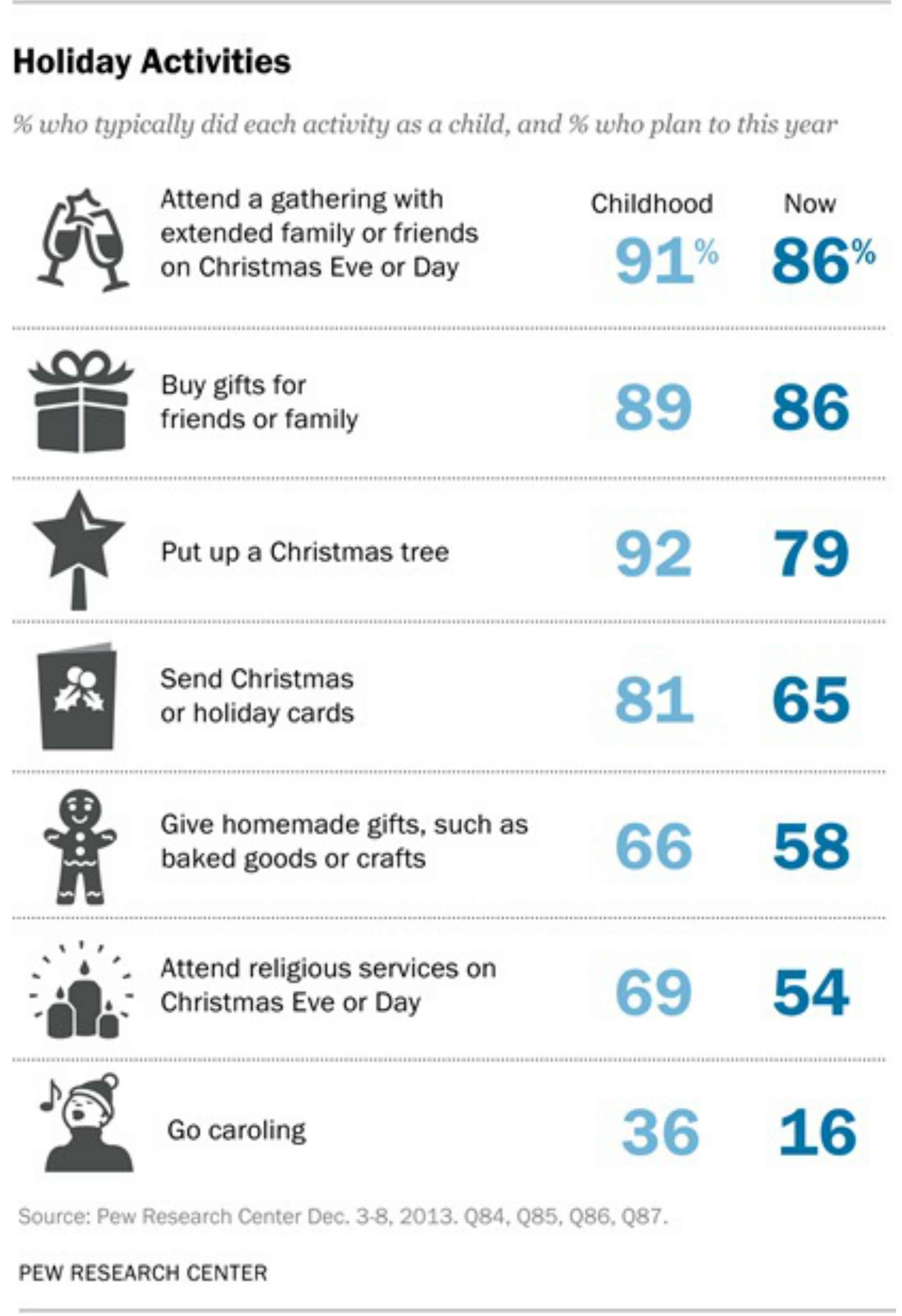 Traditions are important. So, spend time with family and friends. Light candles. Give gifts.
We need our traditions. They give order and structure to the flow of our years, and give us comfort and certainty in an uncertain world. Traditions are a connection to our parents, our great-grandparents; they are a connection to the greater community. They remind us that we belong.
As Tevye says in Fiddler on the Roof, "Without our traditions, our lives would be as shaky as…a fiddler on the roof."
Sources:
Reference.com, "In what country did Christmas Tree Originate?"
AllthingsChristmas.com "Christmas Traditions"
Whychristmas.com "Customs and Traditions"
worldholidaytraditions.com, "Holiday traditions of England."
History.com, "Rudolph the red-nosed reindeer turns 75."
Pew Forum, "Celebrating Christmas and Holidays, Then and Now."